The ceaselessly requested Keys and Coal Ward bundle is again for a restricted time! This bundle consists of 50 Enchanted Keys and 1 Coalescent Ward.
Unlock they key bundle on Thursday, December 30 at 7:30am PT
Lock-up the important thing bundle on Thursday, January 6 at 7:30am PT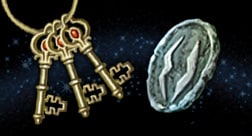 The 50 Keys + Coal Ward is a restricted time addition to the Zen Market so don't miss out!

<!–
–>
var notAuthorized = "We're sorry, you must accept permission from our Facebook app to continue with login";
var showFBError = function(msg) {
var js_facebookError = $('#js_facebookError');
js_facebookError.show().addClass('in').find('p').html(msg);
js_facebookError.on('click', '.close', function(e){
e.stopPropagation();
js_facebookError.hide().removeClass('in');
});
};
var FBLogin = {
loggedIn: false,
useToken: function(token) {
if(!FBLogin.loggedIn){
var postData = {
"access_token": token,
"src": location.href
};
if(pageInfo.redirect_after_login) {
postData['src'] = pageInfo.redirect_after_login;
}
setStatus('spinner', $('#fb-load-info'));
$.post('/' + pageInfo.lang + '/sign/fb', postData, {}, 'json')
.done(function(rpcdata) {
clearStatus($('#fb-load-info'));
if(rpcdata.status == 'success'){
FBLogin.loggedIn = true;
window.location.href = rpcdata.data.redirect;
} else if(rpcdata.status == 'redirect') {
FBLogin.loggedIn = true;
window.location.href = "https://www.arcgames.com/en/sign/link" + "?src=" + location.href;
} else if (rpcdata.status == 'relog') {
FBLogin.loggedIn = false;
FBLogin.loginStatusResponse.authResponse = null;
FBLogin.loginStatusResponse.status="unknown";
// user is now logged out
FB.logout(function(response) {
});
FBLogin.logIn();
} else {
showFBError(rpcdata.msg);
}
})
} else {
console.log('already logged in. Not doing anything with the token.');
}
},
logIn: function() {
var self = this;
if(!FBLogin.loggedIn){
if (self.loginStatusResponse && self.loginStatusResponse.status === 'connected') {
FBLogin.useToken(self.loginStatusResponse.authResponse.accessToken);
} else if (self.loginStatusResponse && self.loginStatusResponse.status === 'not_authorized') {
FB.login(function(response){
if(response.authResponse != null){
FBLogin.useToken(response.authResponse.accessToken);
}
}, {scope: self.scope});
} else {
FB.login(function(response){
if(response.authResponse != null){
FBLogin.useToken(response.authResponse.accessToken);
} else {
showFBError(notAuthorized);
}
}, {scope: self.scope, return_scopes: true});
}
} else {
console.log("Tried logging in – but the user is already logged in.");
}
},
logOut: function() {
window.location.href = "https://www.arcgames.com/en/sign/out";
return ;
},
init: function(settings) {
var self = this;
self.scope = settings.scope;
window.fbAsyncInit = function() {
// init the FB JS SDK
FB.init({
appId : '618913041484841', // App ID from the app dashboard
version: 'v8.0',
// TODO: Set up channel file. https://developers.facebook.com/docs/javascript/gettingstarted/#channel
// channelUrl : '//WWW.YOUR_DOMAIN.COM/channel.html', // Channel file for x-domain comms
status : true, // Check Facebook Login status
xfbml : true // Look for social plugins on the page
});
FB.getLoginStatus(function(response) {
self.loginStatusResponse = response; // cache this
});
};
// Load the SDK asynchronously
(function(d, s, id){
var js, fjs = d.getElementsByTagName(s)[0];
if (d.getElementById(id)) {return;}
js = d.createElement(s); js.id = id;
js.src = "//connect.facebook.net/en_US/sdk.js";
fjs.parentNode.insertBefore(js, fjs);
}(document, 'script', 'facebook-jssdk'));
},
};
!function(f,b,e,v,n,t,s){if(f.fbq)return;n=f.fbq=function()
{n.callMethod? n.callMethod.apply(n,arguments):n.queue.push(arguments)}
;if(!f._fbq)f._fbq=n;
n.push=n;n.loaded=!0;n.version='2.0′;n.queue=[];t=b.createElement(e);t.async=!0;
t.src=v;s=b.getElementsByTagName(e)[0];s.parentNode.insertBefore(t,s)}(window,
document,'script','https://connect.facebook.net/en_US/fbevents.js');
fbq('init', '1643497985891270');
fbq('track', "PageView");