The Swap's entry within the A-Prepare collection received't be for everybody, however if you happen to can push previous its complexities, there's a lot to take pleasure in.
A-Prepare is a kind of online game collection that I want had a extra constant path to localization. Whereas over time issues like area of interest Japanese RPGs have gotten higher at finally surfacing with English-language variations, this little technique simulation franchise has remained spotty at greatest.
A-Prepare, or 'Let's Take the A-Prepare' as its Japanese title really interprets, is principally a enterprise simulation franchise within the vein of the best PC efforts. It so suits into that definition, in actual fact, that sim style pioneers Maxis even localized and printed the 1992 entry within the west. Since then, many entries have been launched, hopping throughout each platform you possibly can think about – Mega Drive, DS and 3DS, three generations of PlayStation, PC, and even Xbox 360.
The most recent entry, A-Prepare: All Aboard! Tourism brings the franchise to Nintendo Swap, however can be getting a fully-localized western launch from Nintendo itself, a curious improvement.
Anyway; you realize what you're getting with a recreation like this. You're positioned into the job of the boss of a railway firm, and your job is solely to offer rail providers, pleasing clients and rising the enterprise. The twist maybe comes due to the setting, the place since this can be a practice administration sim set in Japan, the intricacies of Japan's railway system and the way in which rail suppliers work together with each passengers and native authorities over there may be recreated.
It's not an enterprise fully targeted on being profitable, although cash after all dominates and determines what you are able to do at anyone time. These video games are often described as metropolis simulations, and that's correct too. As you construct your rail empire, the inhabitants centres you service will change as a direct results of the provision of inexpensive public transit. You should use this to recreation the system in enjoyable methods, like shopping for up land in an space that you simply're going to construct a powerful rail infrastructure round. As soon as the results of that infrastructure take maintain, you can unload that land as its demand – and value – soars.
You are able to do all of this inside a sandbox, however the core of A-Prepare is a collection of state of affairs choices that happen in several maps set at completely different instances in historical past, with the financial make-up and obtainable trains and expertise altering primarily based on the last decade you're in. Every state of affairs has particular and acceptable objectives with a good however decently difficult issue curve. Whilst you can meander off and sandbox, what A-Prepare needs you to do is figure by means of these eventualities one-by-one.
All this might be for nothing, after all, if the easy act of constructing rails, traversing the map, and establishing your providers isn't enjoyable. That is after all the most typical downside with this kind of recreation on a controller – however this can be a respectable effort, largely due to the truth that this collection has a storied historical past on consoles.
In addition to respectable button controls that allow you to leaf by means of the menus, there's additionally a handful of touchscreen choices that you need to use for pace and ease of entry if you happen to're in handheld mode – one thing which is most welcome as this undoubtedly seems like a 'handheld first' kind of recreation, a straightforward time-sink whereas stress-free away from an enormous display screen. The sport's choices get astonishingly in-depth, however most of those intricacies are neatly hidden away and automatic until you need to dig into them and get into minute-accurate scheduling and the like.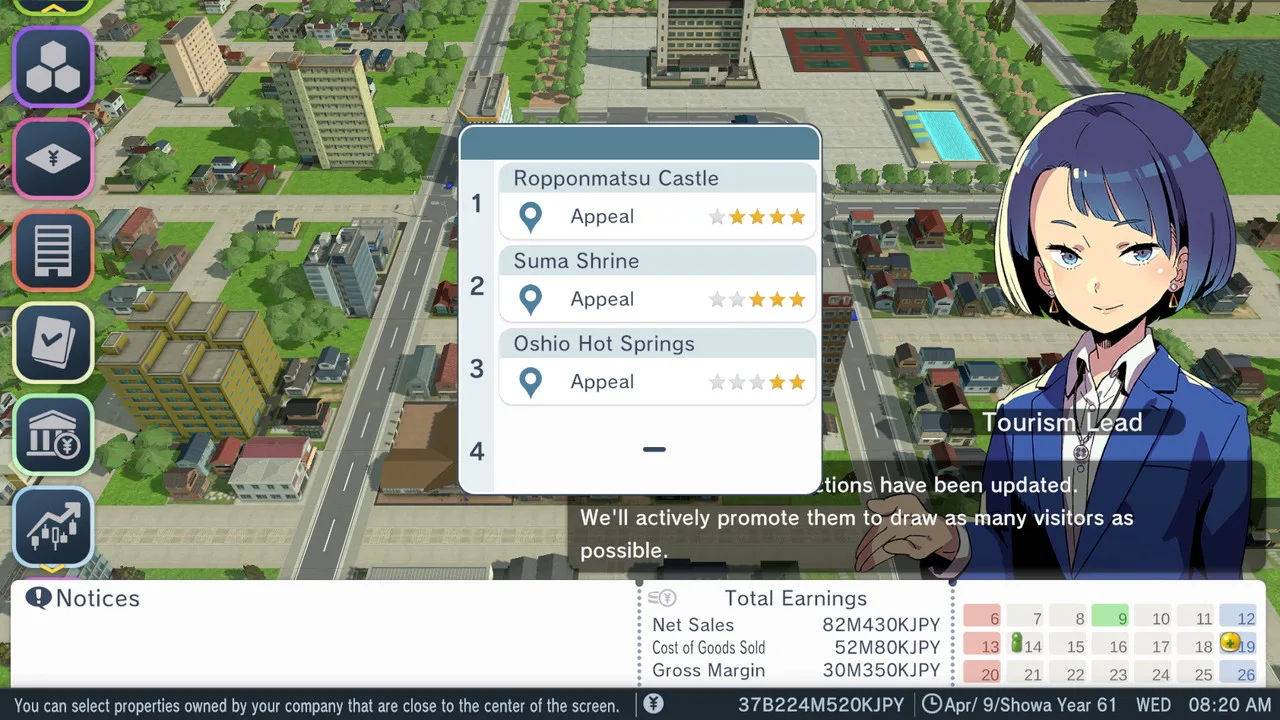 When you're into it, then, it's a beautiful, stress-free expertise, and I by no means actually felt like I used to be having to wrestle with the sport's advanced nature or its controls. Nonetheless, really entering into A-Prepare is probably the taller job initially.
You're thrown in on the deep finish, on an mid-century state of affairs on a suburban map. Anime advisors in archetypal jobs with the plain matching persona sorts attempt to information you thru issues – however it's lots. You're advised what to do, but additionally given sufficient broad freedom which you could very simply mess it up and again your self right into a nook, regardless of these being friendlier tutorial eventualities.
A number of instances within the early phases I might really feel myself shedding persistence and edging nearer to bouncing off the sport. A-Prepare's normal efficiency is okay, if not outstanding – there's the odd forgivable hiccup right here and there, and whereas the visuals are pretty fundamental to accommodate for that efficiency, it's a characterful artwork type. A lot of the interface and presentation can really feel sluggish, thoughts. Should you keep it up and push by means of, you discover shortcuts and tips to hurry every little thing up, and the extra you start to grasp, the simpler it turns into to easily benefit from the finer factors of what's a really lovingly-crafted simulation.
A-Prepare: All Aboard! Tourism received't be for everybody. That's not simply because it's a part of a distinct segment style – it's additionally due to the way in which it's structured and the time dedication to really get into it and dig deep into the 'good things'. It by no means fairly goes off the rails, however typically you'll want the journey might be a bit of faster – and never everybody will be capable of stick it out. Should you handle that – and extra fervent followers of transport sims ought to be capable of do this – there's a little bit of a hidden gem right here.
A replica of the sport was supplied by the writer.
const frames = window.frames;
for (let i = 0; i < frames.length; i++) {
frames[i].stop();
}
function sandboxIframes() {
const iframes = jQuery('iframe[src]');
jQuery.each(iframes, function() {
const iframe = jQuery(this);
// Youtube iframes are exempt from being sandboxed
// as long as we swap them for the Privacy Enhanced player
if(iframe.attr('src').match(/youtube(-nocookie)?.com/embed/i)) {
iframe.attr('src', iframe.attr('src').replace('youtube.com', 'youtube-nocookie.com'));
} else {
iframe.attr('data-src', iframe.attr('src'));
iframe.attr('alt', 'Please accept cookies to see this iframe.');
iframe.removeAttr('src');
}
});
}
function sandboxScripts() {
const scripts = jQuery('script[src]:not(.ignore-script)');
jQuery.each(scripts, function() {
const script = jQuery(this);
script.attr('type', 'text/plain');
script.attr('data-src', script.attr('src'));
script.removeAttr('src');
});
}
function runIframes() {
var iframes = jQuery('iframe[src]');
jQuery.each(iframes, function() {
const iframe = jQuery(this);
iframe.attr('src', iframe.attr('src').replace('youtube-nocookie.com', 'youtube.com'));
});
var iframes = jQuery('iframe[data-src]');
jQuery.each(iframes, function() {
const iframe = jQuery(this);
src = iframe.attr('data-src');
// Now we have targeting consent we can swap the
// privacy-enhanced players back to the regular version
if(src.match(/youtube-nocookie.com/embed/i)) {
src = src.replace('youtube-nocookie.com', 'youtube.com');
}
iframe.attr('src', src);
iframe.removeAttr('alt');
iframe.removeAttr('data-src');
});
}
function runScripts() {
const scripts = jQuery('script[data-src]:not(.ignore-script)');
jQuery.each(scripts, function() {
const script = jQuery(this);
script.attr('src', script.attr('data-src'));
script.attr('type', 'text/javascript');
script.removeAttr('alt');
script.removeAttr('data-src');
});
}
function runCarbon() {
!function(a,l,b,c,k,s,t,g,A)(window,document,"script","//carbon-cdn.ccgateway.net/script","cca",window.location.hostname,"04d6b31292");
}
var _comscore = _comscore || [];
_comscore.push({ c1: "2", c2: "8518622" });
function runComscore() {
(function() {
var s = document.createElement("script");
el = document.getElementsByTagName("script")[0];
s.async = true;
s.src = "https://sb.scorecardresearch.com/beacon.js";
el.parentNode.insertBefore(s, el);
})();
}
function runDisqusCounter()
function runFacebookPixel() {
!function(f,b,e,v,n,t,s){if(f.fbq)return;n=f.fbq=function(){n.callMethod?
n.callMethod.apply(n,arguments):n.queue.push(arguments)};if(!f._fbq)f._fbq=n;
n.push=n;n.loaded=!0;n.version='2.0';n.queue=[];t=b.createElement(e);t.async=!0;
t.src=v;s=b.getElementsByTagName(e)[0];s.parentNode.insertBefore(t,s)}(window,
document,'script','//connect.facebook.net/en_US/fbevents.js');
fbq('init', '1749355691872662');
fbq('init', '738979179819818');
fbq('track', 'PageView');
}
function runSkimlinks() {
var s = document.createElement('script');
s.type="text/javascript";
s.async = true;
s.src="https://s.skimresources.com/js/87431X1540266.skimlinks.js";
document.getElementsByTagName('head')[0].appendChild(s);
}
function youtubeParser(url)(v/)
function runBBMVS() {
jQuery('article main iframe').each(function(){
src = jQuery(this).attr('src');
if(src) {
check_yt = youtubeParser(src);
if(check_yt){
jQuery(this).attr('id', 'yt-' + check_yt);
jQuery(this).attr('data-yt-id', check_yt);
jQuery(this).addClass('yt-embed');
}
}
});
var promises = [];
jQuery('article main iframe.yt-embed').each(function() {
check_yt = jQuery(this).attr('data-yt-id');
(function(replace_yt) {
promises.push(jQuery.getJSON( "https://gamernetwork.bbvms.com/json/search?query=%22" + replace_yt + "%22&context=all", function( data ) {
if(typeof data['items'][0] !== 'undefined' && typeof data['items'][0].id !== 'undefined') {
yt_video = jQuery('#yt-' + replace_yt);
jQuery(yt_video).attr('data-bbvms-id', data['items'][0]['id']);
};
}));
})(check_yt);
});
Promise.all(promises).then(function( data ) {
first_yt = true;
video_is_guide = "";
device = "desktop";
jQuery("[data-bbvms-id]").each(function() {
yt_video_wrapper = jQuery(this).parent();
if(first_yt) {
if(device == "mobile" && video_is_guide == "1") {
playout_id = 'vg247_autoplay_guide';
} else {
playout_id = 'vg247_autoplay';
}
first_yt = false;
} else {
playout_id = 'vg247';
}
jQuery(yt_video_wrapper).after('