The goddess Waukeen, often called the Service provider's Pal, is sharing her blessings as soon as once more with the heroes of Neverwinter. We're blissful to announce the return of the Cash of Waukeen Occasion!
Cash of Waukeen Begins Thursday, March 18 at 7:30am PT
Cash of Waukeen Ends Thursday, March 25 at 7:30am PT
The Golden Woman has come again, for a restricted time, to offer adventurers a possibility to build up nice wealth. Throughout the occasion, adventurers could also be rewarded with a Waukeen's Coin Purse by battling monsters inside 7 ranges of them. Adventurers have to be degree 10 or larger to take part. You possibly can open your Coin Purses straight away; nonetheless, exchanging them in bulk within the Moonstone Masks will web you much more priceless Waukeen reward packs.
How do you entry the Moonstone Masks Tavern? Head into Protector's Enclave to the occasion dais, the place many occasion NPCs have been positioned. As soon as there it is possible for you to to enter the Moonstone Masks Tavern by the swirly portal subsequent to the NPC. Within the tavern you'll discover a service provider to trade-in Waukeen's Coin Purses for Waukeen's Strongbox (eight wanted) or Waukeen's Treasure Chest (32 wanted). Moreover, you may commerce purses in for Weapon Transmutes which can value 40-80 Cash of Waukeen.
Waukeen's Service provider in Moonstone Masks is providing Waukeen's Golden Chest for 64 Coin Purses.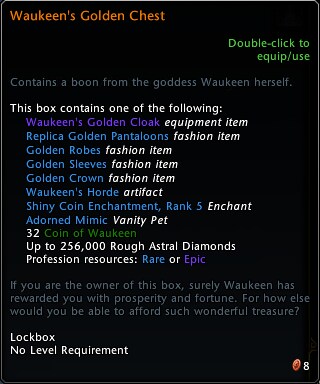 Waukeen's Hoard Artifact – an enchanted chest made to carry the assorted treasures of Waukeen and another scary issues. 
Adorned Mimic vainness pet (may drop from Waukeen's Treasure Chest)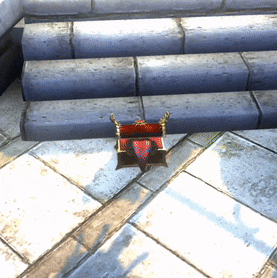 Shiny Coin Enchantment, Rank 5 (may drop from Waukeen's Treasure Chest)
Golden Transmute Style together with Golden Sleeves, Golden Robes, Golden Crown, and Golden Pantaloons. (Sleeves may drop from Waukeen's Treasure Chest and Pantaloons may drop from Treasure Chest and Strongbox)
Rewards inside Waukeen's Coin Purse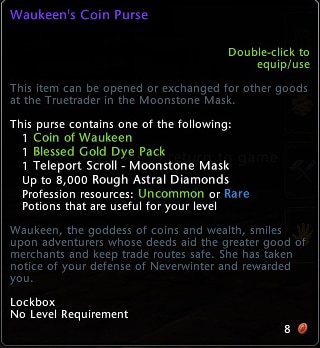 Rewards inside Waukeen's Strongbox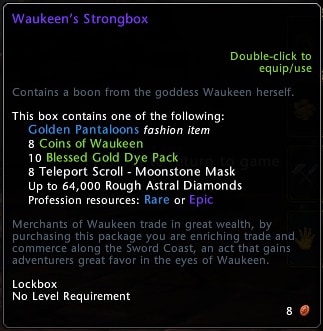 Rewards inside Waukeen's Treasure Chest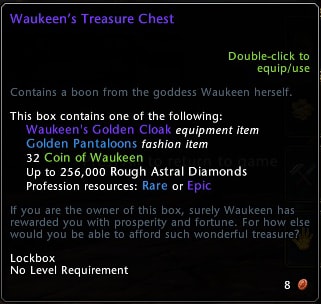 Along with probably getting as much as 256,000 Astral Diamonds, gamers might be rewarded with some nice vogue objects, dyes, and weapon transmutes!
Gilded Waukeen Weapon Transmute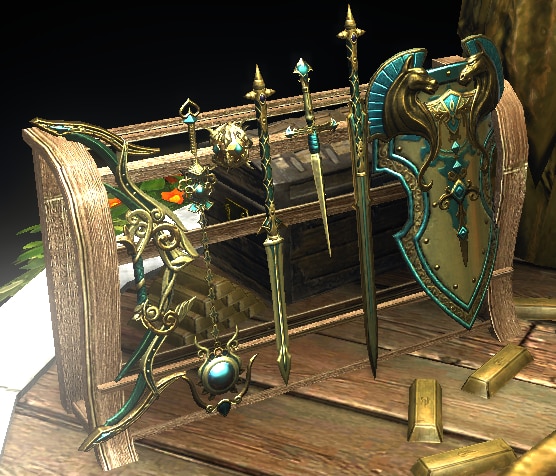 Golden Pantaloons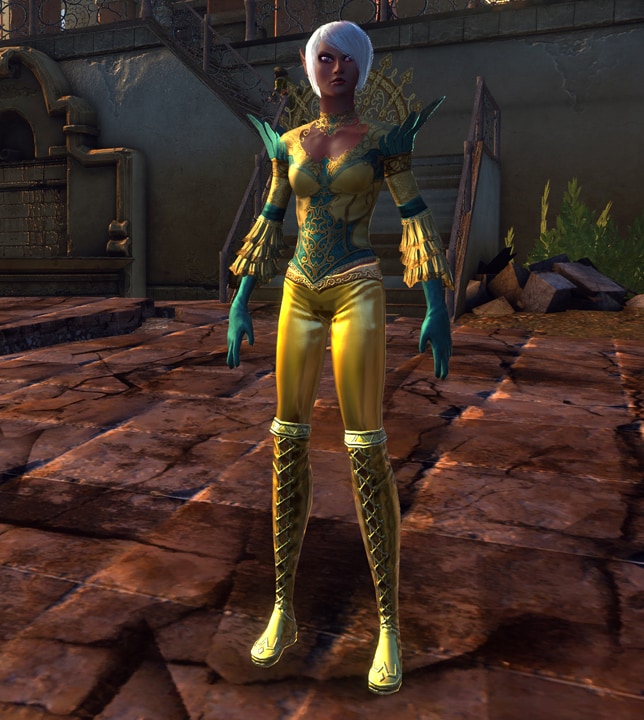 Waukeen's Golden Cloak (Bind on Equip) and Blessed Gold Dye Pack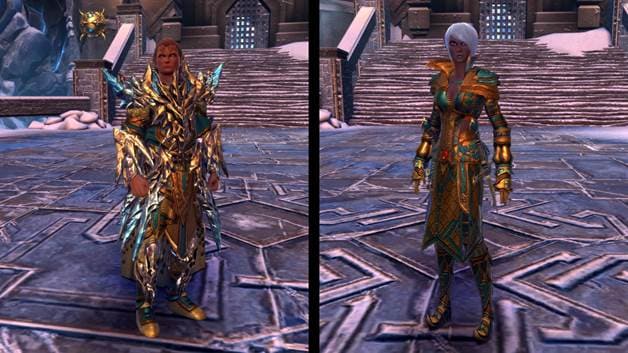 Gold is for the Daring!
var showFBError = function(msg) {
var js_facebookError = $('#js_facebookError');
js_facebookError.show().addClass('in').find('p').html(msg);
js_facebookError.on('click', '.close', function(e){
e.stopPropagation();
js_facebookError.hide().removeClass('in');
});
};
var FBLogin = {
loggedIn: false,
useToken: function(token) {
if(!FBLogin.loggedIn){
console.log("Not logged in. Using token: ", token);
// xhr of easyXDM
var REMOTE = 'https://' + location.hostname.replace(/(w+)/, 'www');
var xhrXDM = new easyXDM.Rpc({
local: '/easyXDM/name.html',
swf: '/easyXDM/easyxdm.swf',
remote: REMOTE + '/xdm/cors/index.html',
remoteHelper: REMOTE + 'easyXDM/name.html'
}, {
remote: {
request: {}
}
});
var postData = {
"access_token": token,
"src": location.href
};
if(pageInfo.redirect_after_login) {
postData['src'] = pageInfo.redirect_after_login;
}
setStatus('spinner', $('#fb-load-info'));
xhrXDM.request({
url: '/' + pageInfo.lang + '/sign/fb',
method: 'POST',
data: postData
}, function(rpcdata) {
var r = JSON.parse(rpcdata.data);
clearStatus($('#fb-load-info'));
if(r.status == 'success'){
FBLogin.loggedIn = true;
window.location.href = r.data.redirect;
}
else if(r.status == 'redirect') {
FBLogin.loggedIn = true;
window.location.href = "https://www.arcgames.com/en/sign/link" + "?src=" + location.href;
}
else if(r.data){
if(r.data.show_defender){
r.data.show_error ? showError(r.msg) : webDefender($('#js_verifyCredentials'));
}
}
else {
showFBError(r.msg);
}
});
} else {
console.log('already logged in. Not doing anything with the token.');
}
},
logIn: function() {
var self = this;
if(!FBLogin.loggedIn){
if (self.loginStatusResponse && self.loginStatusResponse.status === 'connected') {
FBLogin.useToken(self.loginStatusResponse.authResponse.accessToken);
} else if (self.loginStatusResponse && self.loginStatusResponse.status === 'not_authorized') {
FB.login(function(response){
if(response.authResponse != null){
FBLogin.useToken(response.authResponse.accessToken);
}
}, {scope: self.scope});
} else {
FB.login(function(response){
if(response.authResponse != null){
FBLogin.useToken(response.authResponse.accessToken);
}
}, {scope: self.scope, return_scopes: true});
}
} else {
console.log("Tried logging in – but the user is already logged in.");
}
},
logOut: function() {
window.location.href = "https://www.arcgames.com/en/sign/out";
return ;
},
init: function(settings) {
var self = this;
self.scope = settings.scope;
window.fbAsyncInit = function() {
// init the FB JS SDK
FB.init({
appId : '618913041484841', // App ID from the app dashboard
version: 'v8.0',
// TODO: Set up channel file. https://developers.facebook.com/docs/javascript/gettingstarted/#channel
// channelUrl : '//WWW.YOUR_DOMAIN.COM/channel.html', // Channel file for x-domain comms
status : true, // Check Facebook Login status
xfbml : true // Look for social plugins on the page
});
FB.getLoginStatus(function(response) {
self.loginStatusResponse = response; // cache this
});
};
// Load the SDK asynchronously
(function(d, s, id){
var js, fjs = d.getElementsByTagName(s)[0];
if (d.getElementById(id)) {return;}
js = d.createElement(s); js.id = id;
js.src = "//connect.facebook.net/en_US/sdk.js";
fjs.parentNode.insertBefore(js, fjs);
}(document, 'script', 'facebook-jssdk'));
},
};
!function(f,b,e,v,n,t,s){if(f.fbq)return;n=f.fbq=function()
{n.callMethod? n.callMethod.apply(n,arguments):n.queue.push(arguments)}
;if(!f._fbq)f._fbq=n;
n.push=n;n.loaded=!0;n.version='2.0′;n.queue=[];t=b.createElement(e);t.async=!0;
t.src=v;s=b.getElementsByTagName(e)[0];s.parentNode.insertBefore(t,s)}(window,
document,'script','https://connect.facebook.net/en_US/fbevents.js');
fbq('init', '1643497985891270');
fbq('track', "PageView");