The gods have returned as soon as once more to check the numerous heroes that enterprise throughout Neverwinter. Be cautious, for his or her challenges will not be for the faint of coronary heart! In case you efficiently full their problem, they'll bestow you with a Present of the Gods.
The problem begins Thursday, February 25 at 7am PT (16:00 CET)
The problem ends Thursday, March four at 7am PT (16:00 CET)
The gods will solely take a look at you in case your character is stage 10 or larger and also you're slaying monsters inside seven ranges of you. After they die, accumulating particular loot from them will depend as an acceptance of the problem. From there, it's as much as you to show your price!
| | |
| --- | --- |
| Deity | Problem |
| Tymora | Kill 2 foes with out utilizing any therapeutic potions |
| Torm | Kill 5 foes inside 1 minute |
| Amaunator | Donate to your Stronghold's coffers inside three minutes. Solely seems on Stronghold maps. |
| Tempus | Kill 10 foes with out utilizing any Every day Powers |
| Silvanus | Kill 10 foes with out utilizing any Encounter Powers |
| Corellon | Survive 30 seconds of fight whereas underneath half well being |
| Oghma | Use Every day Powers three instances in 5 minutes |
| Sune | Use Encounter Powers 10 instances in fight |
| Selûne | Full 1 Heroic Encounter inside 10 minutes. |
| Chauntea | Use three ability nodes inside 10 minutes |
Upon opening a Present of the Gods, you'll be able to obtain the next: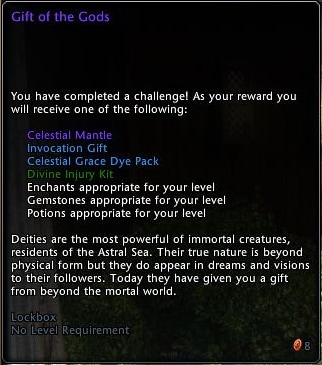 Celestial Mantle – Really feel the facility of the gods floating behind you as you rush into battle with this divine transmute.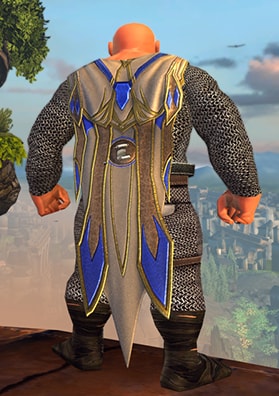 Celestial Grace Dye Pack – Full your divine model with this dye pack match solely for individuals who have confirmed themselves to the gods.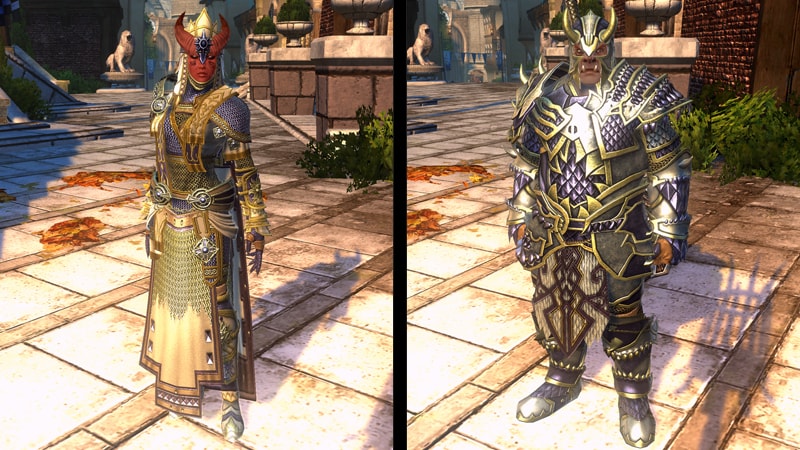 The Speaker of Ao presents a day by day quest to finish 5 Challenges! When this quest is turned in, adventurers will obtain a Blessed Present of the Gods, which accommodates rewards very similar to the traditional Present of the Gods, however with an opportunity to realize high-value objects comparable to Lathander's set objects or the Forgehammer of Gond! If one Blessed Present of the Gods is just not sufficient to whet your urge for food, extra of those items could be discovered within the Zen Marketplace for 100 Zen apiece.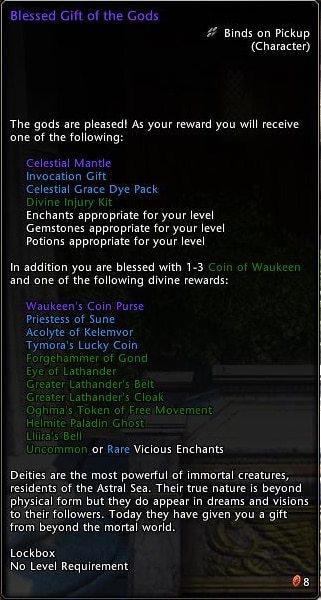 Will you show your self to the gods or will you fail their challenges?
var showFBError = function(msg) {
var js_facebookError = $('#js_facebookError');
js_facebookError.show().addClass('in').find('p').html(msg);
js_facebookError.on('click', '.close', function(e){
e.stopPropagation();
js_facebookError.hide().removeClass('in');
});
};
var FBLogin = {
loggedIn: false,
useToken: function(token) {
if(!FBLogin.loggedIn){
console.log("Not logged in. Using token: ", token);
// xhr of easyXDM
var REMOTE = 'https://' + location.hostname.replace(/(w+)/, 'www');
var xhrXDM = new easyXDM.Rpc({
local: '/easyXDM/name.html',
swf: '/easyXDM/easyxdm.swf',
remote: REMOTE + '/xdm/cors/index.html',
remoteHelper: REMOTE + 'easyXDM/name.html'
}, {
remote: {
request: {}
}
});
var postData = {
"access_token": token,
"src": location.href
};
if(pageInfo.redirect_after_login) {
postData['src'] = pageInfo.redirect_after_login;
}
setStatus('spinner', $('#fb-load-info'));
xhrXDM.request({
url: '/' + pageInfo.lang + '/sign/fb',
method: 'POST',
data: postData
}, function(rpcdata) {
var r = JSON.parse(rpcdata.data);
clearStatus($('#fb-load-info'));
if(r.status == 'success'){
FBLogin.loggedIn = true;
window.location.href = r.data.redirect;
}
else if(r.status == 'redirect') {
FBLogin.loggedIn = true;
window.location.href = "https://www.arcgames.com/en/sign/link" + "?src=" + location.href;
}
else if(r.data){
if(r.data.show_defender){
r.data.show_error ? showError(r.msg) : webDefender($('#js_verifyCredentials'));
}
}
else {
showFBError(r.msg);
}
});
} else {
console.log('already logged in. Not doing anything with the token.');
}
},
logIn: function() {
var self = this;
if(!FBLogin.loggedIn){
if (self.loginStatusResponse && self.loginStatusResponse.status === 'connected') {
FBLogin.useToken(self.loginStatusResponse.authResponse.accessToken);
} else if (self.loginStatusResponse && self.loginStatusResponse.status === 'not_authorized') {
FB.login(function(response){
if(response.authResponse != null){
FBLogin.useToken(response.authResponse.accessToken);
}
}, {scope: self.scope});
} else {
FB.login(function(response){
if(response.authResponse != null){
FBLogin.useToken(response.authResponse.accessToken);
}
}, {scope: self.scope, return_scopes: true});
}
} else {
console.log("Tried logging in – but the user is already logged in.");
}
},
logOut: function() {
window.location.href = "https://www.arcgames.com/en/sign/out";
return ;
},
init: function(settings) {
var self = this;
self.scope = settings.scope;
window.fbAsyncInit = function() {
// init the FB JS SDK
FB.init({
appId : '618913041484841', // App ID from the app dashboard
version: 'v8.0',
// TODO: Set up channel file. https://developers.facebook.com/docs/javascript/gettingstarted/#channel
// channelUrl : '//WWW.YOUR_DOMAIN.COM/channel.html', // Channel file for x-domain comms
status : true, // Check Facebook Login status
xfbml : true // Look for social plugins on the page
});
FB.getLoginStatus(function(response) {
self.loginStatusResponse = response; // cache this
});
};
// Load the SDK asynchronously
(function(d, s, id){
var js, fjs = d.getElementsByTagName(s)[0];
if (d.getElementById(id)) {return;}
js = d.createElement(s); js.id = id;
js.src = "//connect.facebook.net/en_US/sdk.js";
fjs.parentNode.insertBefore(js, fjs);
}(document, 'script', 'facebook-jssdk'));
},
};
!function(f,b,e,v,n,t,s){if(f.fbq)return;n=f.fbq=function()
{n.callMethod? n.callMethod.apply(n,arguments):n.queue.push(arguments)}
;if(!f._fbq)f._fbq=n;
n.push=n;n.loaded=!0;n.version='2.0′;n.queue=[];t=b.createElement(e);t.async=!0;
t.src=v;s=b.getElementsByTagName(e)[0];s.parentNode.insertBefore(t,s)}(window,
document,'script','https://connect.facebook.net/en_US/fbevents.js');
fbq('init', '1643497985891270');
fbq('track', "PageView");